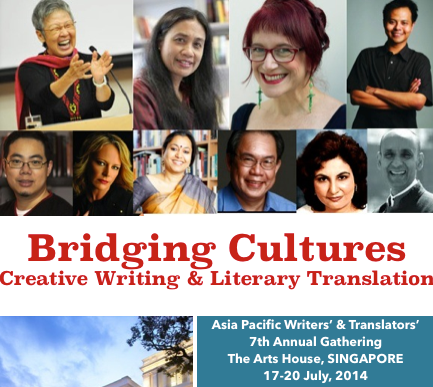 Last Thursday, over 100 participants met at the Arts House in Singapore for the Asia Pacific Writers and Translators (AP Writers) 2014 conference, four days of discussion with the theme Bridging Cultures: creative writing and literary translation. Vanessa Deza Hangad reports.
The idea of links across differences prevailed. There were representatives from Singapore and all over Asia, including India, Pakistan, mainland China, Hong Kong, the Philippines, Indonesia, Malaysia, and Thailand. Australia, New Zealand, the US, Canada, Italy and the UK were represented as well. Then there were the global citizens. The hyphenated Asians - Filipino-Australian, Asian-American, Singaporean-Canadian - who lined up for cordials and cakes along with a prominent American translator who had been living in Indonesia for over thirty years and an Australian travel writer based in Thailand. Clearly, the participants themselves were the living embodiment of bridges, people for whom nationality and identity are not always fixed points but figurative places to be traversed by the written word.
Topics discussed were similarly diverse, and encouraged a vigorous exchange of ideas.
Among Thursday's roundtable topics were What is Literature, Gender Politics: forcing the issues, and Poetry: art and soul of it. Regional-specific discussions included Indonesian Literature Today and Conversations on Writing Today from Pakistan.
On Friday, the roundtable discussions included Changes to the Literary Landscapes and New Publishing Opportunities, How Translation Transforms both the Text and Translator, and The Teaching of Creative Writing in English and the Influence of the Mother Tongue.
On Saturday, roundtables included Language and Politics: new dynamics, and Writing for Children.
Published authors led the workshops, which were informative and constructive. Freelance writer Damyanti Ghosh, a veteran of many conferences, said she thought AP Writers' workshops were high-quality and worth the money, adding: "They have a concrete focus. The workshop leaders have a precise brief of what they are supposed to do." She particularly liked Tim Tomlinson's Links, Fragments and Continuity and Sally Breen's Editing Your Manuscript. For myself, I found both the writing exercises from Tim Tomlinson, and also Dr Tony Burch's Creative Writing Fiction relevant and on-point.
At least 15 book were launched, with readings interspersed through all four days. Launches included those for Agnes S. L. Lam's
Becoming Poets: the Asian English experience
, Linda Jaivin's new novel,
The Empress Lover
, set in Beijing, and Kulpreet Yadav's novel
Catching the Departed
.
At 2 performance events Singapore OutLoud #1 / #2, emerging writers shared the spotlight with more established ones. Contributing authors S. Mickey Lim, Sarah Salmon and I read from Rojak: stories from the Singapore Writers' Group. The spirit of reaching out to developing writers was echoed in the Annual General Meeting held on Saturday, where representatives from Australian literary magazine Griffith Review called for submissions for the upcoming issue Twenty Under Forty In the Asian Century.
It was a packed agenda. Rousing keynotes were given by Singaporean author Suchen Christine Lim, Filipino-Australian writer Merlinda Bobis, and Australian writer and translator Linda Jaivin. There was an evening literary walk with Singaporean writer Rosemary Lim, and a fundraiser of music and the spoken word organised by Marc Nair, poet and artistic director of Lit Up Singapore. With so much going on, some attendees felt they were in danger of missing key events!
As well as Suchen Christine Lim and Marc Nair Singaporean writers were represented by poet Joshua Ip, who moderated one of the Singapore OutLoud events, and Lydia Kwa, who launched a re-published edition by Ethos Books of her novel Pulse. Many emerging writers based in Singapore also attended. Nevertheless, there was a desire for even more local representation and participation. Dipika Mukherjee, whose novel Thunder Demons was long-listed for the Man Asian Literary Prize, felt that this was a young festival with its heart in the right place, but expressed concern that "not more Singaporeans are involved." She wanted to see a separate panel that featured Singaporean writers.
Whilst the conference was taking place, Singapore was rocked by controversy because the National Library Board decided to remove and destroy some children's books depicting alternative families. Suchen Christine Lim addressed this in her opening keynote. She was like a high priestess with her arms extended, invoking inclusion with: "May you be loved. May you be treasured. May you be visible for the children of Singapore who do not come from traditional families - the one man, one woman and their children model." Suchen made the powerful point that the model being upheld marginalises all families that don't fit the definition, such as single-parent and other alternative households. Her words brought light and warmth into the cavernous room of what used to be Singapore's parliamentary debating chamber. When we all stood up with her, we were in effect building that bridge to celebrate diversity.
I spoke with Nury Vittachi, Chairman of the AP Writers, as he was looking for volunteers to read poetry, dance, and sing for Sunday's closing ceremony. He said: "Governments are realising that the creative industries are the least polluting and least resource using industries in the world. So gatherings of creative people are signs of progress."
Vanessa Deza Hangad
was born in the Philippines and grew up in California. She is currently living in Singapore, where she is one of the contributing authors for the upcoming book
Rojak: stories from the Singapore Writers' Group
. Her work has been anthologised in
The Very Inside
(Sister Vision Press) and in
maganda magazine
(UC Berkeley) She is now working on her first novel and on a manuscript of poems.