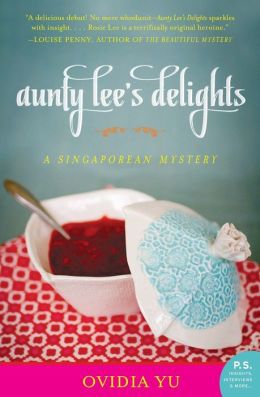 500 Words From...is a series of guest posts from authors, in which they talk about their books and characters. Here
, Ovidia Yu, one of Singapore's most acclaimed authors, talks about

Aunty Lee, feisty widow, amateur sleuth, and proprietor of The Lion City's best-loved home-cooking restaurant. Aunty Lee has now brought her charm and wit - not to mention her intelligence, nosiness, and crime-solving skills - to two

delectable mysteries, Aunty Lee's Delights, and Aunty Lee's Deadly Specials. Both books are published

internationally by William Morrow

Paperbacks, enabling readers far beyond Singapore to be beguiled by Aunty Lee.
"Inspiration for Aunty Lee? Parts of Aunty Lee came from various so-called aunties I know - not necessarily older, good at cooking or even female! She loves cooking and feeding people and as far as she is concerned, eating together is the best way of becoming friends. She also loves sorting out other people's problems for them, including murders they may be suspected of committing.
At first I thought the aunty quality of being nurturing, comforting and making your business their own was a uniquely Singaporean thing, given that all of the aunties in my life are from Singapore. But since publication of the first two Aunty Lee books I've received feedback that Aunty Lee has embodied characteristics of readers' Jewish / Non-Resident Indian / Catholic-Raised / American Born Chinese relatives so perhaps aunty qualities cover a much wider range!
And of course, in addition to cooking and minding other people's business, Aunty Lee solves murders. The inspiration for that came from the books I grew up loving and still read. Agatha Christie, of course. Also Rex Stout and Sherlock Holmes in the hands of Arthur Conan Doyle and Laurie R King. Some of my currently best loved writers are Louise Penny, Donna Leon and SJ Rozan. Their books make it abundantly clear how well they know and how much they love rural Quebec, the waterways and old buildings of Venice, and the brownstones and Chinatown of New York. The example set by these authors made me want to see whether I could do the same in my own backyard. And trying to capture Singapore through Aunty Lee's eyes has made me re-examine my views towards this City-State which I've taken for granted till now, much the way I took my parents, neighbourhood and school for granted
.
I've disagreed with the way some things are done here - probably in much the same way as adolescents disagree with elders they consider old fashioned and over strict - but, like a responsible parent, Singapore has provided a safe space from which to explore the world. Aunty Lee takes full advantage of that, exploring people and places via their favourite foods. The human need for food is as universal as the human horror of murder, which is why I find the juxtaposition interesting.
The best part about writing these books is working through issues that come up. For example the first book, Aunty Lee's Delights, was triggered by news of a woman's body found on Sentosa, an island just off Singapore, and the second book, Aunty Lee's Deadly Specials, was seeded when I read about illegal organ transplants. The third book, with the working title Aunty Lee's Chilled Vengeance
, which I'm in the middle of editing now, touches on the rage unleashed last year in Singapore when an expat put down a perfectly healthy puppy she'd adopted from a rescue centre. I'm hoping to see this third outing for Aunty Lee published in 2015. But it's difficult to focus on just one project. I've also got several drafts of a history-mystery set in 1920s Singapore that's not quite ready to show yet and I'm using National Novel Writing Month, currently underway, to outline another idea."